Planning a surprise event is never an easy task, especially when working remotely with 13 people all trying not to let it slip in the middle of meetings, chat forums, emails or phone calls. Then there is also the coordination for the event in sorting venue, timing, people and presents. With challenges abounding, this is the story of how the Flamsteed Committee pulled off a spectacular surprise send-off for Andy Sawers, who stepped down as Chair after 5 years.
As a precursor, it was felt that we needed to do an in-person presentation to Andy, even if only a few people could attend, this was preferred over mailing him some gifts and having a Zoom send off. The venue was suggested by Poly Philippou, The Old Brewery in Greenwich, as it has a large outdoor area, we also got a list of possible presents and then it was time to put the plan in motion.
Bobby had initially approached Andy with an invite for them to meet with their partners for a quiet dinner – just with the four of them. That was agreed and the date and venue were confirmed and shared with everyone – including former committee members and friends at the Royal Observatory. However, Andy came back some days later to say that his wife was not available and suggested moving to some other time. It was perhaps too late to change the date so Bobby convinced him to keep the date – just with the both of them.
The plan was for Bobby and Andy to meet at the venue at 6:30 pm and everyone else show up at 7:00. Thereafter, a Zoom session would be opened up with the rest of the committee members. Things kicked off rather smoothly, Bobby arrived at the pub first, hid his present behind the bar and about 10 minutes later, Andy showed up. Andy was none the wiser that Bobby was sitting at a rather long and extended table. They got to chatting about the weather, his plans for retirement and engaged in Bobby's persuasive tactics to have Andy join him in sampling the various rums on offer.
Just after 7:00pm Mike Meynell walked in and Andy's face lost colour and expression. Mike said that he was just having a walk and saw Bobby and Andy and he just wanted to say hello. Bobby then invited Mike to join them for a drink. Some time later, Asra Jilani and Mike Richardson came in and said that they were also on a walk around Greenwich and saw the group sitting there. Soon after came Helen Edwards and Clive Inglis and they also claimed that they were on a walk and spotted them. It seems like the stars were all aligned to have committee members all walking in the same area at the same time and descending on the same pub on the same table. Lastly, Simon Hurst came in with the horde of presents. It was then time to kick off the Zoom link.
On Zoom were Poly Philippou, Malcolm Porter, Roger Geeson and Tej Dyal. They were already having a party, drinks at hand (ready for refilling) and waiting for the presentation to Andy.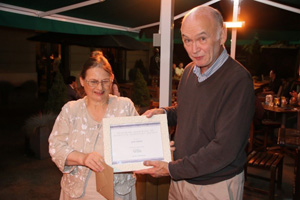 First up was a bottle of Klingon Blood Wine from Simon, the label actually read, "Chateauneuf du Pape" to avoid conflicts with other species.

Then came an Honorary Lifetime Membership certificate from NMM and a card with messages from all Committee Members. These were presented by Helen.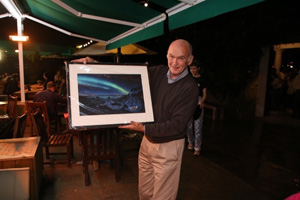 Next a framed print of the Northern Dragon's Eye by Elena Pakhalyuk was presented by Mike. During this presentation, Andy recalled when he first took up the role of Chair 5 years ago and how his discussions with Mike progressed during his early period in the role.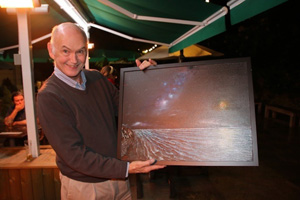 Finally an original oil painting done by Bobby which shows The Milky Way over a seaside. This is in keeping with Andy's intended retirement location.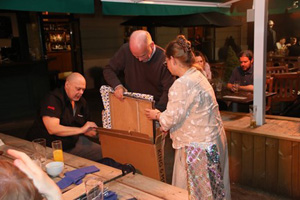 It was easy to tell how many drinks went around the table as some were left asking, "How many astronomers does it take to put pictures in a box?" Quite a few apparently.








By this time, Andy was left without words (as impossible as it may seem). As for the rest of the evening, no one could confirm or deny if more drinks were had either by the Zoom party or the Pub party but one particular member of the team needs to have more coke in their rum.
The evening was a great success and a fitting way to say thank you to a great former Chair for his leadership, friendship and commitment to all of us at the Flamsteed. It was also a welcome to the new Chair Bobby, who possibly did not read the fine print to fully understand what he was getting himself into. Above all, it was so nice to meet up in person after a long time and looking forward to some more engagements in the near future.
Final thanks to the follow for their part in this event:
Helen Edwards for organising the Membership Certificate. Helen did all the correspondence with the NMM to get this sorted. Thanks to the RMG Membership team (Chloe Shepherd, Sarah Foster and Tessa Mo) for enthusiastically supporting this and arranging the certificate.
Malcolm Porter suggested the framed photo and the Astrophotography Book (not yet released). Many thanks as these were splendid suggestions.
Bobby Manoo for the Oil Painting of the Milky Way over the seaside.
Simon Hurst also for the Chateauneuf du Pape and also for collated all the presents and carried them to the venue.
To all the committee members for sending through their comments to Helen for the creation of the card.
The venue was really special and certainly a keeper. Thanks for the suggestion by Poly Philippou. (Now we know where Poly goes to get her choice wines).
Bobby for organising not only the evening but doing the ROG purchases and booking the venue.
Poly for hosting the Zoom session.
Asra Jilani and Mike Richardson for taking Bobby home safely.
Helen for making sure Andy got home safely.
Clive Inglis for making sure Simon got home safely.
Mike Meynell was seen continuing on his evening walk.
Posted under: Meeting Report